Discover more from SJF
A newsletter that follows curiosity wherever it leads, written by composer Simon James French aka SJF.
Forté #14
A few things that have inspired me lately and what I've been working on..
Hi you, I've been working on a couple of new tracks recently, one of which you can listen to right here on Substack, but please also give a listen to my latest album Meditations if you haven't already. Here's another fortnightly collection of things that caught my attention:
🍃 I think the title of this one says it all really. Healing music indeed.. Give this a spin and you'll instantly feel a lot calmer.
🍃 These highly aesthetic posters seem like the perfect fit for enticing you to book a gorgeous holiday getaway, but are in fact advertising…a bottle of liquor. I think these photos must have been taken in Oita; an area of Japan famous for its gorgeous landscapes and also the place where Iichoko shochu hails from.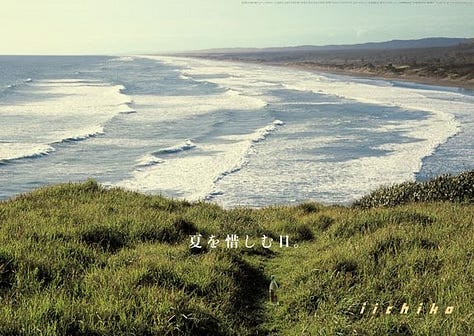 🍃 Why you should write. I'm sharing this with you, but actually this is just a big fat reminder to myself! This article offers some genuinely great advice on how to start a writing habit but frames it in a way that makes sense for any creative activity really.
🍃 And once you've begun writing, you'll need something to write about! Here's Kurt Vonnegut giving a witty and inspiring lecture about the Shape of Stories.
🍃 This fascinating BBC documentary went into detail about how important our gut microbiome is and how it can change when we alter our diet. Something that fascinates me deeply.
🍃 And I'll leave you with Seneca's wise words that we could all do with remembering from time to time..
life is very short and anxious for people who forget the past, neglect the present, and fear the future.
Thank you for being here, let me know what's inspiring you recently. Hitting subscribe is always welcome and please do share with someone who might enjoy.
SJF x
SJF is a reader-supported publication. To receive new posts and support my work, consider becoming a free or paid subscriber.